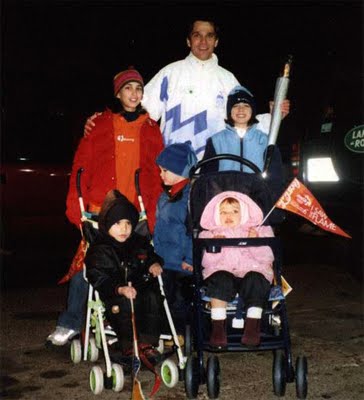 We hope everyone is enjoying their own little piece of the 2010 Winter Olympics. Each time we at Pumpkin Cars watch an Olympics, we remember the excitement (and also the freezing cold!) of the winter of 2002 when Franck Freon, creator and owner of
Pumpkin Fine Cars & Exotics
, had the amazing honor of running the Olympic torch during the Winter Olympics.
Franck carried the flame in downtown Center City, Philadelphia, Pennsylvania in 2002. He was joined by his wife, Gina Freon, and their two young children, Harrison who was almost 4 years old and Isabella who was 2 at the time (and pictured in strollers with their Dad in the photo above). Gina's Mom, brother John and sister Christine, along with her brother Brian and his wife Donna with their three young children (also pictured above), Alyssa, 10, Emily, 8 and Brian, almost 4, were all by his side to cheer him on!
This was a very exciting time, as Franck was at the height of his car racing career as a General Motors factory driver. He had just won the 2000 & 2001 Petit Le Mans races, as well as the 2001 24 hours of Daytona as a Corvette driver for the
Pratt & Miller
General Motors Corvette Racing Team. He was so proud to be one of the chosen few to carry the famous Olympic flame and the torch and to help represent America in the 2002 Winter Olympics. Now, in 2010, he's cheering on his growing future stars or "olympians" as they ski and snowboard and strive to achieve their dreams! Enjoy the rest of the games!