You may have seen them around the greater Philadelphia/Atlantic City area as they are now becoming more and more popular in the United States... the Smart Car. As quickly as we got this cute little Smart Car in, it was sold. However, not before
Franck
and
Alfred
were able to take it for a spin around Egg Harbor Twp. This tiny, sub-compact car has received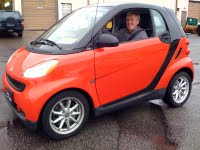 rave reviews around the world, not only from car manufacturer's and the federal government's crash testing facilities but from
Smart Owners
, worldwide. The original thought behind the design of a Smart Car was to create a vehicle easy to park and short enough to allow "nose in" parking. The project was started by Swiss watch manufacturer Swatch who eventually teamed up with Daimler-Benz to offer an affordable and innovative car for young people. The Smart name is actually an acronym: Swatch Mercedes Art. From it's world premiere in 1997 at the IAA in Frankfurt Germany, it has now sold over 750,000 units and is available in 37 countries, including right here in the Atlantic City area. We have and will continue to carry some pre-owned Smart Cars which will give the South Jersey residents a chance to own one and save a bit of money over the cost of a brand new one. This one had only 1,081 miles on it, barely broken in.
If you don't believe me when I say this car is as safe as can be, check out these Smart owner's
real stories
of their crash tests and how almost all of them walked away from their accidents. With some of the highest safety ratings in the industry and a high-torque, hybrid engine rated at 70hp which can get up to 40 mpg on the highway, this little vehicle has the perfect balance between responsiveness and economic responsibility.
Franck
drove it home from Manheim, Pennsylvania and he said it was as smooth and roomy as you would expect a normal sized sedan to be. You can also get the luxury features found in your typical
Mercedes Benz
.