Check out this shiny new Pre-Owned, Car Of The Day.....a
2006 Mercedes Benz CLS500
! This beauty has an Iridium Silver exterior with a high gloss Laurel Trim and Ash Leather Interior. It has been complimented by an optional Wood Trim package which features a leather and wood steering wheel and a wood shift knob. This classy 4-door Coupe was hand-picked by none other than
Franck Freon
, owner of
Pumpkin Fine Cars & Exotics
, and as with all of his pre-owned vehicles, this Mercedes Benz got
Pumpkin Certified
(a thorough inspection and "go-over" as well as servicing and a full detail) before it ended up on our showroom floor.
Franck knows how to pick 'em. This bad boy has a little bit of everything. It's comes equipped with an 8 cylinder, 5.0 liter engine and features power heated seats with memory p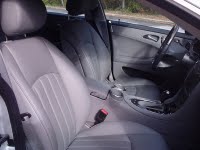 ositioning, four-zone automatic climate control, 18" alloy wheels, auto-dim rear view mirrors and blue tinted glass windows. Not to mention it's Navigation System, parktronic sensors and an AM/FM Stereo with a CD Player and a 6-disc CD Changer.
Here's a little review from Franck Freon himself:
"Obviously Mercedes Benz scored big when they introduced the CLS 500 a couple of years back. The concept of having a terrific looking car that has 4 doors but looks like a "coupe" just established a brand new concept in the automobile world. No other brand has co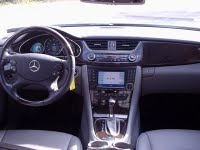 me up with an answer for it yet!
At Pumpkin Fine Cars we thought it was time to carry that beauty since prices are now way down from the original window stickers. The one we have has an original price of $71,300.
I really enjoy driving the CLS for different reasons :
#1- The layout of the cockpit gives you that pleasant feeling that the car is an extension of your body. Everything is close to you and to be honest you feel like you could be inside an F-15 Fighter Jet rather than onboard a luxury automobile.
#2-The chassis commands respect with absolute control of the road. Firm and precise but not bumpy, I know a lot of BMW-M Die Hards would appreciate the dynamic of the CLS a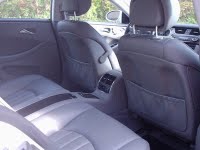 nd that says it all. Icing on the cake is the 3 mode suspension that you can adjust by the touch of a button: comfort, sport 1 or sport 2 (maximum stiffness) allow you to choose what you desire that day.
#3- The V8 engine with over 300hp and tons of torque, well supported by a new 7-speed automatic transmission (shift buttons on the back of the steering wheel if you are in the mood...) propels the car with ease and stamina.
After all these years of racing around the world, you become a bit demanding but for a vehicle so unique looking and so fast, now in the high $30k range, I would gladly put a CLS in my garage......why don't you treat yourself? "
For more information log onto
http://www.pumpkincars.com/
or call our showroom at (609)646-7676 to set up a test drive. If you have never been to Pumpkin, you can find
personalized directions
on our website as well. As always, drive safe and happy motoring, from all of us here at Pumpkin Fine Cars & Exotics!