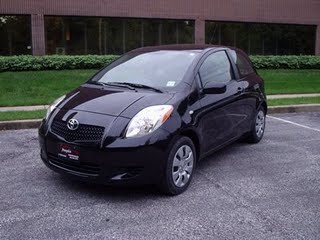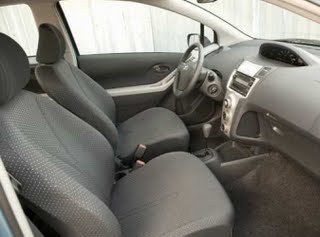 JUST IN....A
2007 Toyota Yaris
, the new edition from Toyota in this wave of new economy cars. This peppy little hatch-back with its sporty feel is as economically friendly as they come. Easy on the pocket, this 4-cylinder, 1.5 liter engine with a 5-speed manual transmission will save you lots of money on gas (getting 34.8 mpg on regular grade fuel) and $4,000 off the sticker price.
If options and gadgets and shiny wheels are what turns you on, then this car is not for you. You can find those types of pre-owned beauties on our website by
clicking here
. However, if your looking for a no-frill, economy car that's as great on price as it is on performance and gas mileage, then this
Yaris
is for you! As quoted on
Edmund's Inside Line
..."It has decent mid range pull and has no problem getting up to and cruising at 75-80 mph on the highway." The gear shift and clutch action are both light and easy and whether at idle or speeding down the highway, the engine is smooth and vibration free. This base model has been
Pumpkin Certified
and features an AM/FM Stereo with a CD Player, air conditioning, tilt steering wheel and intermittent wipers along with 3 glove boxes (2 on the passenger's side and 1 on the driver's side) since the driving instruments are center mounted. This was designed for more passenger and legroom. The rear seats recline about 6 inches to and fro and completely fold down for added cargo space. For more photos of this Yaris or for
personalized directions
to our showroom, visit our website at
http://www.pumpkincars.com/
or
contact us
at (609)646-7676.